Advocates at every level and age play an important role in Children's Week FloridaTM mission of improving the lives of our state's children, youth, and families. A significant number of these individuals are under the age of 18. These young Floridians embody vision, demonstrate integrity, and continuously encourage advocacy efforts for the issues most important to them. We humbly look to these influential youth as tomorrow's leaders and were excited to create a new award specifically for these youth. In collaboration with the 2021 Advocacy Reception and Awards Partner, United Healthcare, we presented the inaugural Children's Week FloridaTM Youth Advocate Award in April 2021.
This award highlights one young person who has initiated or diligently worked on behalf of positive change in support of programs or policies that benefit children, youth, and families in their school, community, or statewide. The recipient of the Youth Advocate Award is one who demonstrates significant commitment to advocacy efforts and exemplifies creativity, leadership, and collaboration. Congratulations to our inaugural Youth Advocate Award recipient, Ria Patel!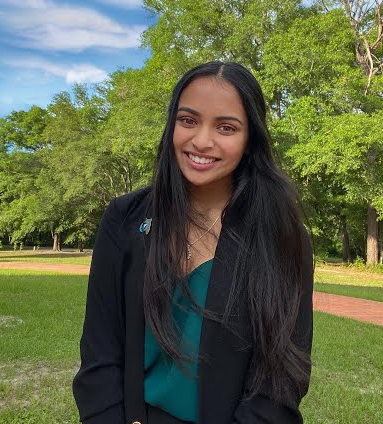 2021 Youth Advocate Award Winner:
Ria Patel
Ria Patel is a junior at Oak Hall School. From a young age, Ria has helped to advocate for and support the children in her community, school, and state through volunteerism, civics education, and service learning. Since 2015, she has helped to organize annual events for United Way of Suwannee Valley and Give Kids The World Village. These events advocate for the importance of better nutrition for children in Ria's hometown in Alachua County and across the state.
Ria is a dedicated student leader and a gifted facilitator. She never shies away from an opportunity to serve others around her. Her positivity and the significant impact she shares with her community, friends, and family make her deserving of this special honor.
We Are Now Accepting Nominations for the 2022 Youth Advocate Award!
This year's recipient will be honored on Monday, January 31, 2022 during the Children's Week FloridaTM Advocacy Reception and Awards Ceremony. They will also be invited to participate in the Children's Week FloridaTM Teen Town Hall on Tuesday, February 1, 2022 helping inspire young minds and motivate the next generation of advocates.
Nominations must be submitted by Thursday, September 30, 2021. Any submissions received after this deadline will not be accepted. Eligibility criteria for the Youth Advocate Award is as follows:
Anyone can submit a nomination (e.g. teachers, parents, mentors, students) or a youth may nominate themselves.
Youth nominees must be under 18 or still in school (K -12) at the time of nomination.
Youth nominees should be currently involved in advocacy efforts or actively encouraging ongoing advocacy efforts to improve the lives of children, youth and their families at the local or state level.